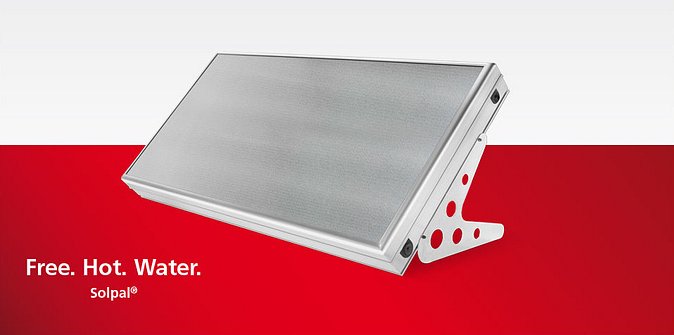 The Solpal® Advantages:
Easy to install = Lower installation cost
Affordably priced unit
Compact design mounts on flat or pitched roof or free-standing
Integrated collector-storage system
Reduces the cost of hot water up to 80%
Conserves energy; Environmentally friendly
Eliminates need for water heater on roof
Hot water year-round
SRCC OG-300 certified; IAPMO certified; compliant with all U.S. standards
Rigorously tested for durability
Low maintenance
More energy efficient than other solar units
Fossil fuels are costly to produce, limited in supply, and emit carbon dioxide which contributes to climate change, and is generally bad for the environment.
Solar power is the trend of today and the wave of the future. It is clean, costs nothing, is unlimited in supply, and environmentally safe.
The Solpal® Solar Thermal System
Innovation Homes offers the latest technology in solar thermal systems that produce free hot water, using the sun as an unlimited source of energy. It is more efficient, economical, and half the weight and size of traditional solar thermal systems.
Solpal® is the first solar thermal system that combines the solar collector with a hot water storage tank into one integrated unit, resulting in a sleeker, more compact design which lowers the time and cost of installation.